Brought to my attention by Beet, and positively fucking wonderful
Meet the Muffia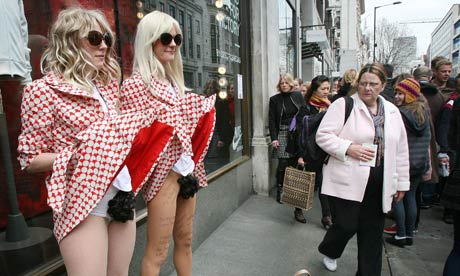 "Frustrated by a lack of feminist debate, Sinead King and Katie O'Brien have been out on the streets flashing their merkins as the Muffia – the latest in a long line of outspoken female performance artists..."
"Under the guise of the Muffia, they started asking questions of their own. Why don't we resent the way the media portrays women? Does no one care that women are mutilating themselves with cosmetic surgery? Why do so few young women know what feminism is?"
"O'Brien explains that their aim is "to use our bodies on the street to generate ideas and engage with people.""
Check out the whole article, it's a good read and has a nice, quick history of feminist performance art.